Visit www.mastampa.org/MYathlon for more info 
Open house: Oct. 8th, 2011 at Masjid Al-Qassam
First day of classes: Oct. 15, 2011
For: for 5th-8th grade girls/boys
Click HERE to Register NOW!
To continue our youth work we need to raise $20,000. In fact, with a donation of $20, $50, $100, $1000, or $5000, you too can contribute to your MAS Tampa's efforts of preparing young Muslim men and women to spread Islam and better their communities. With your help, we are sure that we can do it inshaAllah.
Please share with your friends to do the same and keep us in your duaa inshaAllah. Jazakum Allahu Khair.
For more information, please contact office@mastampa.org
Join us for our Leadership Workshop on May 7th!
Renowned guest speaker: Dr. Mohammad Abbasi
For questions or more information, please contact us at:
office@mastampa.org
 FOR IMMEDIATE RELEASE
Osama Bin Laden is Dead: Justice Has Been Served
PRESS STATEMENT 
Osama Bin Laden is Dead: Justice Has Been Served
The Muslim American Society welcomes the news of the death of Osama bin Laden. The intentional killing of civilians for political ends is terrorism, and this has been the mode of operation of Al Qaeda. We pray that this development leads to a reduction in radical extremism in the world, and that fewer people fall victim to it. Indeed, fighting against acts of terror, radical extremism, and its root causes must continue to be part of our nation's agenda. Finally, we pray that the death of bin Laden will bring some solace to the thousands of families, Muslim and non-Muslim, who have been victimized by Al Qaeda's crimes.
For the last ten years Americans, Muslims and Non-Muslims alike- all of us; collectively and individually, have been worn down and afflicted by years of violence and premeditated death initiated by Osama Bin Laden. His crimes were against all humanity. It is correct and fair that Bin Laden should be held accountable for his crimes and we hold the opinion that justice has been done.
The Muslim American Society apprecites President Obama's reaffirmation that "the United States is not — and never will be — at war with Islam… Bin Laden was not a Muslim leader; he was a mass murderer of Muslims.  Indeed, al Qaeda has slaughtered scores of Muslims in many countries, including our own. We concur with the president that his demise should be welcomed by all who believe in peace and human dignity.
Ahmad El Bendary
President 
Muslim American Society
———————————————————————————-
Muslim American Society is America's largest Muslim religious empowerment, civil liberties and advocacy organization. Its mission is to enhance the understanding of Islam, encourage spiritual development, dialogue, protect civil liberties, empower American Muslims, and build coalitions that promote justice, mutual understanding and religious tolerance.
            ———————————————————————————-
Muslim American Society Freedom
1325 G Street NW, Suite 500,
Washington DC 20005
Phone: (202) 552-7414
or (703) 642-6165
Toll Free: 1-(888)-627-8471
Fax: (757) 299-9961
Join us for a fun filled night as we look back at our youth's achievements over the past year!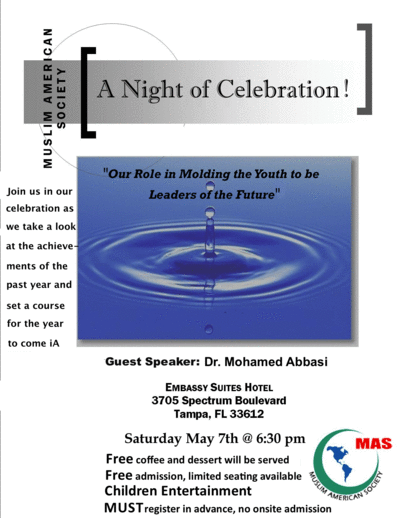 For more information, please contact: office@mastampa.org 
We thank Allah (Subhanahu wa Ta'ala) for the success of this year's MYathlon. Alhamdulillah, this past weekend-March 12th & 13th-60 teams (almost 700 players) from around the nation joined us at the University of South Florida and the Temple Terrace Recreational Center for a weekend of fun and competitive play. Teams from around the states participated in the two-day tournament, competing for the gold in soccer, football, and basketball. Pictures will be up soon inshaAllah
Winners/runner ups:
Rookies
Girls Soccer champs: AYA Eagles (Tampa, FL)
Girls Soccer runner ups: UAF falcons (Tampa, FL)

Boys Soccer champs: Orlando Eagles (Orlando, FL)

Boys Soccer runner ups: UAF falcons B (Tampa, FL)
Junior Girls
Soccer champs : AYA Eagles (Tampa, FL)


S

occer runner ups: Champions (Tampa, FL)
Basketball champs: AYA Eagles (Tampa, FL)

Basketball runner ups : Champions (Tampa, FL)

Junior Boys
Basketball champs: Jamma Breezos (Orlando, FL)


B

asketball runner ups: UAF Falcons (Tampa, FL)


F

ootball champs: UAF Falcons B (Tampa, FL)


F

ootball runner ups: UAF Falcons A (Tampa, FL)


S

occer champs: Istaba (Tampa, FL)

S

occer runner ups: AYA (Tampa, FL)
Senior Boys
B

asketball champs: Faym Lite (Miami, FL)

B

asketball runner ups: Haqq (Orlando, FL)

F

ootball champs: Salems gyros (Tampa, FL)


F

ootball runner ups: Palis finest (Panama City, FL)
Pro Girls
S

occer champs: Tampa Bulls

So

ccer runner ups: Jawbreakers (Tampa, FL)

B

asketball champs: MYO (Orlando, FL)

B

asketball runner ups: Tampa Bulls
Pro Boys
Basketball champions: Game over (Tampa, FL)

B

asketball runner ups: Tampa Halaqa

F

ootball champs: Atlanta Rat Pack (Atlanta, GA)

F

ootball runner ups: Charlotte (Charlotte, NC)
MVP's:
Senior boys BB: Fazaar Ibrahim
Senior boys FB: Saleh Hasan
Pro girls soccer: Amy Perez
Pro girls BB: Amanda Cruz
Pro boys BB: Germaine Fitzgerald
Pro boys FB: Najeeb Siddiq
Click Here to visit MYathlon Website
For more information, e-mail us at: sports@mastampa.org